LIBERTY DOLLAR ALERT:
June 2009 Vol. 11 No. 06-B

Welcome Liberty Dollar Supporters!

WOW! What a week! In answer to the many inquiries about how the "Liberty Dollar Four" are doing, we feel GOOOOOOOOOOD! As Eric Clapton and the Cream sang so many years ago: "I'm glad, I'm glad, I'm glad!" Sure the handcuffs and shackles, drama of the courtroom and finally making bond is a bit unnerving, but now a week after the arrest it is a lot easier to see the whole picture. We are going to win and going to win BIG!

For many years, Liberty Dollar has quested to belay the fears that the government was going to "come after us." And for quite a number of years we have pursued the government to resolve the legal issue and for the US Mint to remove their "warning" that use of the Liberty Dollar was illegal.

Well, we finally got our wish! Kevin, Sarah, Rachelle and I were arrested and now the government must prove their trumped up charges in court before twelve people. I can't tell you how much I am looking forward to this trial!

Make no doubt about it, this is not going to be easy, without pain or costs. If we want to exercise our right to use gold and silver as a "private voluntary barter currency"; if we want "sound money"; if we want to stop being ripped off of our purchasing power then we have to defend our rights. As stated in Bernard's Second Law of Money: Any law that purports to prohibit an American citizen from using a piece of gold or silver (or, for that matter, anything) in voluntary transactions between consulting adults is preposterous, antagonistic to a free market, and totally without legal merit. Click HERE for the Four Laws of Money.

Currently: Bernard, Sarah and Rachelle are out on Appearance Bond and no initial court date has been set in North Carolina, but it won't be long. Kevin Innes is being held as he is a Canadian citizen and considered a flight risk. While, regretfully Sarah has lost her job when the FBI picked her up at work, Kevin's fate is worse as he may be held till December due to the immigration issue. His initial court date is July 6 but it may be months before he is out. You can help/write/send money order made out to Kevin at:

William K. Innes PID 377054
PO Box 31427
Charlotte NC 28231
Money order must include: Birth date Sept-3-1955 and PID 377054
Remember all mail is read.
Visitation is on Saturday in Charlotte.

And to round out this three-ring circus, the Department of Justice (DOJ) must reply to our two civil lawsuits for recovery of the wrongfully seized material on June 17 and June 20. Stay tuned for more fireworks as government tries to extricate themselves from the wringer… while we keep cranking along :)

Now, there are several ways for you to help. Of course, sending money is the easiest way… and we gladly accept any and all monies. In fact you can donate right from our shopping cart. Just click HERE. And while "money," be it counterfeit or not, is at the heart of the trial, it is certainly not the only way you can help. Most important, is our need for competent attorney to combat the counterfeit, similitude and confiscation issues. The person needs to be the best we can find and hopefully one who is personally convinced of the Liberty Dollar mission and will WIN! If you know of a HOT attorney, please ask him/her to email our attorney, Rob Stientjes. PLEASE do not send any info directly to our attorney, he bills us by the hour :)! If you have a referral, info or support, please email it to Legal@LibertyDollar.org. Thanks!

Another great way to help is simply order some Liberty Dollars! You get more gold, silver and copper while the market is still in its current consolidation low price range and you add to your stash of "inflation proof" currency. Trust me, every order helps! Click HERE for the Shopping Cart.

Special thanks to the special people who choose to make a cash donation to the Liberty Dollar. It is good people like you who are the reason why the Liberty Dollar is still in business. Just as I have put all my money into this effort to return America to value, I gratefully acknowledge an outright donation to be very very special. THANK YOU!

Now, if you want to do more and get your money back and maybe even make 50%, check out the Contingency Club. Just click HERE for info or click HERE to make a contribution.

ARREST DOLLARS: Meanwhile, we are down to our last few Arrest Dollars and the price is now $50! This the one that is specially hand hallmarked by me with a micro "handcuffs" stamp and my federally registered mintmark. Issued only from the day of the raid to the day of my arrest, June 4, 2009. The last few 2009 Arrest Dollars are currently on the Shopping Cart for $50 each. After these are gone, they are gone to eBay for much more money.

GOOD NEWS / BAD NEWS for the Tea Party Dollar Orders: The good news is that the initial order, placed during the 24 HOUR blitz, is due to arrive shortly and we are very hopeful that they will be shipped in time for the Fourth of July events. The bad news is that the dies broke after minting 48,000 T-Dollars. So we will ship 60% of your order as soon as the T-Dollars arrive. The bad news is that unfortunately, there is a backlog for dies Made in USA, so counting time to make the new dies, shipping time to and from China, the balance of all orders, including orders placed during the 24 HOUR blitz, will not arrive until the first part of September. I will post the ETA as soon as it is available. My apologies for this delay. Cracked dies do not happen very often but when they do, it is always a disaster. Again, my apologies.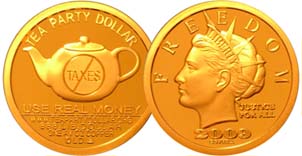 PS: We still have a few Tea Party Dollars, and while nobody likes to wait, if you don't order now, you will certainly miss out on one of the most talked about issues in the history of the Liberty Dollar! Depending on the legal issues… the T-Dollar may be our last issue… it is certainly history in the making. Get some today. Click HERE to order.
ARTICLES: Have you seen the articles? While not as many as when we were raided, as bad news always sells the best, there has been quite a few articles, even a good one from Lew Rockwell, www.mises.org, who branded us the "Liberty Dollar Four." Here are the top five articles. Please click HERE for the articles page.
Head of Asheville Liberty Dollar operation arrested, faces 45 years in prison

FBI cracks down on people using their own money

FBI's Top Ten News Stories for the Week Ending June 5, 2009
Asheville man charged in alleged Liberty Dollar fraud scheme

Liberty Dollars never took off as currency

UPDATE ON 30DMA: Have you been tracking the 30 day moving average for silver? As silver has consolidated its price in the $15 to $16 range, the 30DMA has advanced and is now a very solid $14.26. Please note that as the Liberty Dollar had previously Moved Up to the $50 Silver Base, once the 30DMA reaches $16 again, the Liberty Dollar will Move Up to the $50 Silver Base. Look out! Silver is headed to the moon. Please take advantage of this current low low price range and get some today!
Now is the time for action! Please! Buy, spend, use… do something!!!
Many thanks for your continued support. For it is only by banding together and adopting a free and independent currency that provides us with "just weights and measures" will we be able to throw off the yoke of a manipulated monetary/tax system and generate a peaceful and prosperous society.
Thanks for all your efforts to return America to value - one Liberty Dollar at a time!
Bernard von NotHaus
Monetary Architect/Editor
Editor@LibertyDollar.org
www.LibertyDollar.org
888.LIB.DOLLAR
888.421.6181
Return to Newsletter and Alert Archive