As the National Debt has risen, your "money" has lost its Purchasing Power. In fact since 1913, when the Federal Reserve was created by Congress, your money has lost 96% of its purchasing power due to inflation. The more "money" the Federal Reserve creates - the less your "money" buys. It is the Federal Reserve who creates inflation when it issues US dollars backed by government debt.
From 1913 to 2001, the national debt grew to $6 trillion in 88 years. In the next three years it increased a trillion to $7 trillion dollars in 2004. In the following years it increased approximately a trillion per year. Now the national debt is over $12 trillion dollars! It has DOUBLED in only eight years! And the government now projects to add TWO or THREE trillion dollars to the national debt every year for the foreseeable future!!
The acceleration of our national debt is very dangerous and warning you that your money will rapidly lose its purchasing power shortly.

My 25 Years at the Mint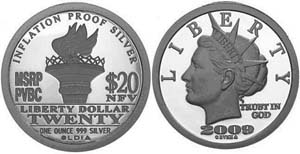 Hi. My name is Bernard von NotHaus. I was so concerned about what was happening to our country's "money" that I created the Liberty Dollar. For 25 years, I was the Mintmaster at the Royal Hawaiian Mint and devoted those years to the study of money, why it is valuable, and how we use it to fulfill our dreams. I wanted to create a totally new inflation proof currency based on precious metals. That quest was completed on October 1, 1998 when the Liberty Dollar was first issued.
So please remember, the Liberty Dollar is a private voluntary barter currency. It is not government money so it is not intended to be used as "Legal Tender", "Current Money" or a "Coin".
Yes, Hawaii is a wonderful place but raising a family in the high-priced Islands was tough. It just wasn't gasoline that was expensive, everything was expensive! I know how difficult it is to provide for a family. And after you retire, it is even worse on a fixed income! US dollar backed only by government debt is bad for everyone! That's why I created the Liberty Dollar.
If someone gave you a choice between a stack of ordinary ten-dollar bills and a stack of ten-dollar bills that were printed on the back with a coupon for 5 gallons of gasoline, good at any gas station in the country, which would you choose?
The first stack is just dollar bills. The second stack is also dollar bills, or if gas prices go up, you can use the back of the bills and fill your tank.
You'd have to be crazy to take the first stack! Right? Why not get the benefits of a negotiable currency coupled with the redeemability for a useful commodity, in this case, gasoline? If gas prices go up, you win while everyone else complains about the high cost of gas! If prices don't rise, you still have your ten-dollar bills!
On the other hand, when you hold US dollars, you own debt that you will eventually have to repay. When you give US dollars to someone as payment, they now have debt. Ouch!
With the US dollar losing value at an alarming rate and more bailouts with much higher National Debt on the way right, now is the time to take monetary matters into your own hand and protect your money… before it is too late!
Sincerely,

Bernard von NotHaus
Monetary Architect