LIBERTY DOLLAR NEWS:
Copper is near.

Dear Liberty Dollar Supporters:
Table of Contents:
1) From Dan's Desk
2) Copper is on the way
3) Hawaii Dala - special offer
4) Last Chance - $50 base
5) 2009 $1 Peace Dollar - now offering Limited Numbered and Hallmarked Editions
6) New Article by Steven Saville of The Speculative Investor
7) A Crisis of Dollars and Sense by Edwin Vierra
8) The last of the 2008 ¼ oz Gold Liberty Dollars
For those of you who prefer to read from the LibertyDollar.org website click HERE.
.
1) From Dan's Desk

Dear Liberty Dollar Supporters.
January is shaping up to be a big news month. Stay tuned for January 15 when we will announce several major positive changes for the Liberty Dollar. You should also expect a legal update from Bernard in the next week or two, which will require action from you. We WILL be moving down to the $20 base on January 16, 2009.
I initially mentioned that I would be delivering the newsletter twice per month, but the truth is that it's tough to do with my limited resources. So I will be delivering one newsletter and smaller bulletins or briefs as news breaks throughout the month. It is my intention to keep you posted on developments as they happen in a timely fashion.
This month I am including two guest contributions to the newsletter, and if you write or have ever wanted to write, and you believe that what you have to say is relevant to the Liberty Dollar community please contact me at dan@libertydollar.org and let's discuss your submission as a guest writer. I know that many of you are thoughtful and well read on the monetary issues we seek to transform here at the Liberty Dollar.

Good continues to happen for the Liberty Dollar. The 2009 $1 Peace Dollars are on a boat from China. Wahoo! I expect to have them in your hands by mid-February. Please remember that our shopping cart requires you to print the invoice when you have completed your order and write a check and put both in the mail to us. We continue work to get credit card processing because of the convenience we know it offers you as our customers. Your patience and continued support is needed and appreciated.
2) $1 Peace Dollars are on schedule for early February Delivery
I am pleased to announce that we are on schedule to ship the 2009 $1 Peace Dollar as promised in early February. So for those of you who preordered, congratulations! You ordered nearly 23,000 ounces. We only have 5,500 of the general issue remaining out of the 30,000 we had minted. The shopping cart allows you to order the pure copper Peace Dollars in pre-packaged quantities only. Five different quantities are available and listed in the chart below. The pricing listed includes shipping. If you want to order more or different quantities, you will need to order multiples of the existing packages. Hurry, don't wait; we only have 5,500 $1 Peace Dollars remaining, and they are sure to go fast.
All packages listed are Associate Discount Prices. If you are not an associate you pay the full retail price.
Click HERE to Order these Packages.
2009 $1 Peace Dollar Pricing and Packaging

Quantity

Associate Discount
Package Price

Full Retail

Shipping included in prepaid package

1st Class USPS Priority Flat Rate envelope

5

$5

$5

20

$18.40

$20

64

$57.60

$64

128

$112.60

$128

256

$217.60

$256

Packages 64, 128, and 256 all utilize the shipping
pictured above which fits inside the USPS Priority flat
rate box and allows us to offer you package pricing that
includes shipping.
3) Hawaii Dala special offer from Bernard and the Royal Hawaiian Mint:

Aloha Royal Hawaiian Mint Supporters:
Recently, while digging around in an old box, I came across a long forgotten issue. Just before I dashed to Hawaii to celebrate the Royal Hawaiian Mint's 30th anniversary in 2004, I had a few special Hawaii Dalas minted just for the trip.
With such a last minute idea, I used the six existing obverse dies from earlier issues that were still at Sunshine and "muled" them with a new reverse die with a face value of $10 dalas. The six different royal designs included: 1998 King Kamehameha, 1996 King Kalakaua, 1996 Queen Liliuokalani, 1991 Princess Kaiulani, 1995 Warrior, and the 2000 Discoverers. I only had a few dalas design minted with each obverse design.
And off to Hawaii I went – spending some but giving most of them away to friends as I traveled around the islands. I remember I had a great time. And when I returned, I promptly turned my attention back to the Liberty Dollar. That is, until just a few days ago, when I found the long forgotten 2004 Anniversary Issue that I had never distributed.
Now, at long last, I have only a few of the Hawaii Dalas with the $10 reverse. In fact, the Kamehameha specimens are the only ones I have found. I have no idea where the other five dala designs are, but I must say the reverse is outstanding. It features the full Coat of Arms of the Kingdom of Hawaii with a small addition that contains copyright, mintmark and RHM for Royal Hawaiian Mint.
This $10 Kamehameha Dala issue is very rare. It measure 39 mm in diameter, contains one Troy ounce of 999 fine silver, has a terrific "proof" finish with a reeded edge. There were no numbered or hallmarked editions of this issue.
Plus a few of all three issues are still available. This is a unique opportunity to collect all the great Kamehameha Dalas with all three face values: $10, $20 and $50. Please click HERE for images and to order the 1998 Kamehameha for $50 each, 2007 Kamehameha for $40 and/or the 2008 Kamehameha is still only $35. Quantities are very limited on all of these items. First come / first served. All are General Issue in near flawless condition. Satisfaction guaranteed for 30 days.
Big Mahalo for your support of the Royal Hawaiian Mint. Its new $4 million building should be open by May 2009 with more wonderful issues – "Dedicated to preserving Hawaiiana in precious metals." – to follow.
Please Click HERE to Order.
Bernard von NotHaus
Mintmaster
PS: Did you get any of the Hawaii State Quarters before they stopped distribution on December 31, 2008? Gads the US Mint was selling the quarters for $0.69 for each! For a quarter! As a special gift, I will send a Hawaii State Quarter for each Kamehameha Dala you order.
PPS: Just as I was ready to make this Announcement… a friend of mine showed her 30th Anniversary Set to me and I quickly photographed it. As you can see, it says right on the deluxe Lucite holder: SAMPLE UNCIRCULATED SET – NOT FOR SALE. True to form, I have never sold any of the Sets and if my memory is correct, I think I had 30 custom Set holders made. Now I wish I had one! Please note in the lower right corner the item is named: LIBERTY HAWAII. Obviously I decided to use the Discoverers design after I had ordered the holders.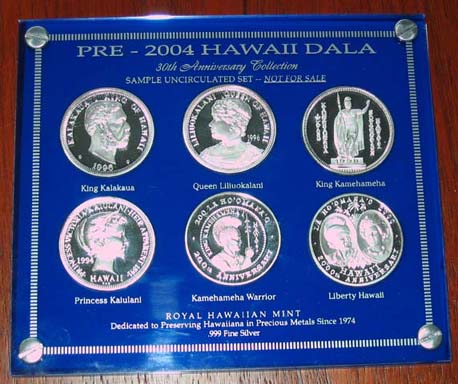 4) Last Chance for the $50 Base

Liberty Dollar is on schedule to move down to the $20 Base, January 16th, 2009. We have a few of the $50 base left on the shopping cart. This will possibly go down in history as the shortest issuance of any Liberty Dollar base. We issued the $50 base for 299 days, from March 23, 2008 to January 16, 2009. We have small quantities of each of the denominations $50, $20, $10, and $5's. You can find the remaining inventory of our $50 base offerings HERE.
5) Announcing the 2009 $1 Peace Dollar Limited Numbered and Hallmarked editions

2009 $1 Peace Dollar Limited Numbered Edition only $3 Each for Associates!
Click HERE to Order.

We are issuing only 300 of the Limited Numbered Edition 2009 $1 Peace Dollars. Each has been individually hand numbered by Bernard von NotHaus and hallmarked with the Peace Symbol. This item will certainly be hottest item as soon as it sells out.
The 2009 $1 Peace Dollar is minted in pure copper. It is 39 mm in diameter, the same size as our one ounce Silver Liberty. Limited Numbered Editions sell for only $3 to Liberty Associates and $5 regular retail.
2009 $1 Peace Dollar Obverse

2009 $1 Peace Dollar Reverse
Limited Numbered Edition
2009 $1 Peace Dollar Hallmarked Edition only $2 Each for Associates!
Click HERE to Order.

The 2009 $1 Copper Peace Dollar features a brand new obverse and reverse design. Each 2009 Peace Dollar Hallmarked Edition measures 39 mm and contains one AV ounce copper and features a special hand stamped Hallmark with the Peace Sign. Only 300 FDI are available. Limited Numbered Editions sell for only $2 to Liberty Associates and $4 regular retail. We are expecting the new Peace Dollar to arrive in early February 2009.


2009 $1 Peace Dollar Obverse

2009 $1 Peace Dollar Reverse
Limited Hallmarked Edition

6) Increasing Instability within the Financial World, Special Guest Article by Steven Saville of The Speculative Investor
I am pleased to conclude this newsletter with a link to a special guest commentary from Steven Saville of The Speculative Investor. I have subscribed to The Speculative Investor since 2001 and love his keen analytic mind and clarity of writing. He brings a welcome simplicity to the fundamental issues plaguing our modern day money system. I have permission from Steven to publish his 2 part commentary titled: Increasing Instability. Click HERE to read. This is a long article with excellent charts that will remain on LibertyDollar.org. Here is the opening paragraph:

"Few people seem to appreciate that the increasing instability within the financial world, as evidenced by price oscillations of progressively greater magnitude, is being driven by government attempts to manage the economy. Recent attempts to stimulate the economy and mitigate the financial crisis are classic examples of what we are talking about…….."
7) A Crisis of Dollars and Sense, by Edwin Vierra, Jr.
The New American posted A Crisis of Dollars and Sense by Mr. Vierra. This is an excellent article that looks at constitutional money, Federal Reserve Notes, legal tender laws and more. Liberty Dollar even gets a passing reference. Clearly the constitution provides for private coinage and private barter transactions.

Edwin Vieira, Jr. is an attorney and author who focus's on issues of constitutional law. He has won three cases in the Supreme Court of the United States. The Liberty Dollar is mentioned in this extensive article that just appeared in the New American. Just search for "liberty" in the find box at the bottom of the screen.
8) The last of the 2008 ¼ oz Gold Liberty Dollars

The 2008 $500 ¼ oz Gold Liberty's have been a big hit this year. I am closing this newsletter by letting you know that if you have wanted one of these, don't wait. We have 40 of them left. These are the perfect size for pendants. Since its now 2009, we will soon be announcing a new Gold Liberty offering.
Thanks for all your support in 2008. Liberty Dollar would not be here without you. 2009 is going to be incredible with lots of exciting new changes. Stay tuned for a legal alert from Bernard in the next week or so and for a major announcement from Liberty Dollar January 15th.
I'm planning to have 2009 be a blazing bright year as we bring value forward into the world's money conversation. In the last 60 days, the Liberty Dollar mailing list has over two hundred new subscribers; and that follows several months of small but steady attrition. As a result of the financial chaos in 2008, the world is ready and listening for what we have to offer.

Dan Priest, CEO Liberty Dollar
Return to Newsletter and Alert Archive