Liberty Dollar Moves Down and Changes
January 19. 2009
Dear Liberty Dollar Supporters:
Happy New Year! And welcome to a changing world!
In addition to a new, untested President who was elected promising "change," the Liberty Dollar is set for a number of changes too.
Four pieces of news with more to come in the next few weeks:
1) Move Down
2) New 2009 Silver Liberty
3) New RCO and Liberty Associate Models
4) $50 base Close Out
#1: Move Down
I am very pleased to confirm that the Liberty Dollar made its first Move Down on January 16, 2009, as planned.
As defined by the Liberty Dollar disciplined currency model, when the 30 day moving average (30DMA) of silver stays below one dollar of the 30DMA of the previous Move Up for three times the term of the previous Move Up, the Liberty Dollar will Move Down to the previous Silver Base.
While many of us previously thought that a Move Down to be all but impossible based on silver pricing history, the current silver markets have spoken and the 30DMA is $10.76. The Liberty Dollar has Moved Down to the $20 Silver Base, thereby confirming that it is indeed a Free Market Currency and moves in sync with the silver market as required by its disciplined currency model.

#2: New 2009 Silver Liberty
Effective immediately the new one ounce 2009 Silver Liberty has a face value of $20 that is identified by NFV, an acronym for Nominal Face Value. We certainly would not want any confusion with the US Mint Silver Eagle with the ridiculous face value of $1! Currently on order with the Mint. Click HERE to Pre Order and Get Yours First. Limit 10.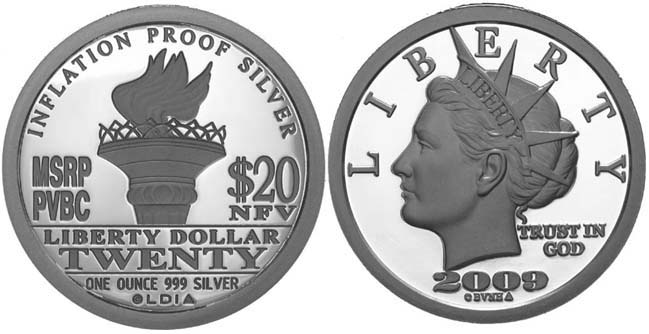 2009 $20 NFV Silver Liberty
# 3: RCO and Liberty Associate Model
Over the last 10 years Liberty Dollar Associate Program has morphed and changed in price and form. Ultimately it is best to have a simple program so as many people as possible get Silver Libertys and use them as a private voluntary barter currency. All current Liberty Associates are still Associates. All fees for new Associates are suspended indefinitely. Our main goal is to get as much silver in people's hands to provide an alternative currency in the trying times ahead that are sure to bring much inflation and even hyper inflation. Tell your friends to sign up now to benefit as an associate.
We are temporarily offering a $20 Base Liberty Supporter Kit that includes the Liberty Dollar handbook, complete Info Pack, two DVDs, and lifetime Supporter Card.

For those of you who want to get silver and information the new Silver Liberty Starter Kit includes the supporter kit as well as five ounces of Silver Libertys as a great way to get information and some currency to start. This Kit includes $100 face value in Silver Libertys, 5 troy oz. You will also receive the ALD booklet, two DVDs, one CD, "The Liberty Dollar SOLUTION" book, "Economic Solutions" booklet, info pages and articles, info cards, brochures and merchant labels. Everything you need to get started introducing the Silver Libertys as a private voluntary barter system. Click HERE to order.

All current RCOs (Regional Currency Offices) will continue to get the Liberty Dollar at a reduced rate, share in Bulk Orders to save even more money, and receive a custom hand stamp to customize specially minted RCO only "naked back" one ounce Silver Libertys for a one time fee of $1000. Please apply today to become a RCO for a fee of $1000 and enjoy the RCO benefits.
#4: $50 Base Liberty Dollar Close Out
We have a small remaining stash of the $50 base mainly because of the long lead times to get silver we have ended up with our house inventory at a less than opportune time so we are offering it to you now. Keep in mind the $50 base Liberty Dollars was only in production in its various denominations for 9 months. Not very much of this Liberty Dollar issue is out there which means for you collectors that it will be fairly valuable to Liberty collectors. For example less than 10,000 of the $5 1/10th oz Liberty Dollar were minted and we only have a few left.
ASSOCAITE PRICES (Current as of January 19 2009 11:00 PM EST)
$33.07 - $50 1oz
$13.73 - $20 2/5oz
$6.86 - $10 1/5oz
$3.68 - $5 1/10oz

Please click HERE to order a few for your collection while you still can.
Magistrate Letter
Have you sent the Magistrate Letter challenging any further delays or stays to the recovery of your seized Liberty Dollar property? If you have not already mailed your letter, please click HERE for a copy of the email or click HERE for the letter to be sent to the Magistrate. PLEASE do not let the government steal your property. It only costs 42 cents. Please take action right now.
Merchant Account
We are continuing to seek a Merchant Account so you still cannot order online using for Credit Card. Remeber you can still order using our Shopping Cart. We know it is very painful and time consuming to mail in your payment… we are especially thankful for your support. We are working have to get this corrected ASAP.
Thank you for your continued support in helping to develop the Liberty Dollar currency model. Your feedback on the ALD User Group at ALD-Forum@yahoogroups.com is greatly appreciated.
More announcements coming over the next few weeks.
Dan Priest
Liberty Dollar CEO

Return to Newsletter and Alert Archive