Liberty Dollar Set to DOUBLE+ Soon!!!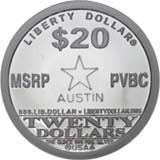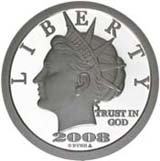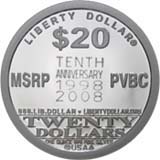 2008 Liberty Dollar
$20 Tenth Anniversary Issue
In celebration of the Tenth Anniversary of the Liberty Dollar, I am very pleased to announce the new 2008 one ounce $20 Silver Liberty Dollar will feature a special 10th Anniversary Hallmark!*
In fact, all the 2008 Silver Liberty Dollars will be "localized" with a custom Hallmark. That's right, the reverse of the 2008 Silver Liberty Dollar will be hand stamped with a punch and sludgehammer by the Regional Currency Officer. Each Liberty Dollar will carry the name of the city, business, region, church or group to maximize local acceptance.
Click HERE to see all the Hallmarks by the RCOs who taken a stand for value. Please get a custom Hallmark for your town, family, business, church, or community and start protecting your purchasing power with the Liberty Dollar today.
The $20 Silver Liberty Dollar dated 2008 has a face value of TWENTY LIBERTY DOLLARS, measures 39 mm, contains one Troy ounce of .999 fine silver in Brilliant Uncirculated condition and is available at silver spot plus $5 and shipping of $6 Up to 12 items, $1 each additional item.
Two innovations have been incorporated into its design to eliminate any possible confusion: First, as the 2008 Liberty Dollar is a "private voluntary barter currency" the PVBC acronym had been added to the currency so there is no confusion about the Liberty Dollar. Second, in keeping with other "brand name" practices, the acronym MSRP (Manufacturers Suggest Retail Price) has been added to fully disclose that the face value of $20 is the MSRP.
The new one ounce $20 Silver Liberty with MSRP and PVBC in pure .999 fine silver is available at silver spot plus $5 and shipping. But with prices changing daily, if not hourly, please send in your order based on the spot price on our web site: www.LibertyDollar.org plus shipping of $6 Up to 12 items, $1 each additional item. If the silver price has moved outside of range by the time we receive your order and we cannot fill your order, we will return your money. If the silver price is a bit less, we will keep the difference as a donation.
To order the 2008 Liberty Dollar, with the custom Tenth Anniversary hallmark, please send a check or money order made out to BERNARD. We have the new $20 Liberty in stock and orders are usually filled within three weeks AFTER we receive your order. Please send all orders to: Liberty Dollar. 225 N. Stockwell Road. Evansville. IN. 47715. Please note the office is very understaffed, and you call may not be returned. If you have a question, an email would be best, please.
During these difficult times, you may get better/faster service from a RCO. Please contact any RCO regardless of where you live. Now, RCOs are not regionally bound. If you wish to open your own RCO, please email me with RCO in the subject field.
A Limited Numbered Edition of all the Hallmarked Libertys is also available for the serious collector. Each Hallmarked Liberty is individually hand stamped with a serial number and micro stamp of the State where the RCO is located. You can collect one or all the legendary 2008 Libertys by contacting the individual RCOs or the Evansville office. This Limited Numbered Edition is available for a limited time. Please take action now. Prices for the special LNE vary between $50 and $75 each. Click HERE to see a sample.
Thanks again for your order, donation and support of the Liberty Dollar.
The Liberty Team
*A hallmark, is a mark struck on precious metal items to identify its distinguishing characteristic. Historically, hallmarks were applied by a trusted party such as the assay office to guarantee a certain weight or fineness of the metal. From ancient Byzantine hallmarks to the Vienna Hallmark Convention in 1973, hallmark have been used to mark the fineness and unique characteristics on precious metal items. Such is the case with the hallmarked 2008 Liberty Dollar and the "Arrest Dollar" with the "Handcuffs" hallmark.